Do you know, I was absolutely flabbergasted to discover that I have never blogged a recipe for a classic Victoria Sandwich cake? I still can't quite believe it.
I have been making Victoria Sandwiches, also known as Victoria Sponge cakes, since I was about 8 years old! It is one of my most vivid memories, walking into the living room of our house in Oakley, Basingstoke, proudly bearing my lovely Victoria Sandwich that I'd made (with the help of my Mum, of course!) for my Dad's approval and for us to have with a cup of tea.
How on earth has this stalwart of baking escaped from being included on Rhubarb & Ginger? The answer is, I have no idea. However, I shall now remedy this and my favourite recipe is set out below. In fact, it is almost the same recipe as the Mary Berry Victoria Sandwich cake, the only differences being that I use 1 tsp of vanilla essence in the cake mix and always fill the cake with jam and cream (and sometimes, as in the latest one, with fresh fruit, too).
This recipe has never failed me and always turns out a lovely deep, moist sponge cake that is man enough to cope with the weight of the jam, cream and extra fruit as well as its other half, without collapsing at all. It is so disappointing to have the bottom half of your cake flatten and compressed by the weight above it, so it is quite important to have a mix that can hold some weight!
It doesn't matter whether you use home made, the shop's best or a cheap as chips jam - they all work and this really is a cake to suit all pockets. If you can't afford to use all butter, then by all means use whatever your budget will allow. The flavour will be slightly different, but the cake will be just as well received and I bet there won't be much left!
So, be it an economy version or a ridiculously outrageous, filled with whipped cream and buckets of fruit version, I've never known this cake to be turned down. It's as easy as winking to whip up - just bung it all in one bowl and whisk away and takes just a twinkling to bake. In fact, the longest and most arduous part about this whole recipe is waiting for the cake to cool so that you can fill it and get stuck in!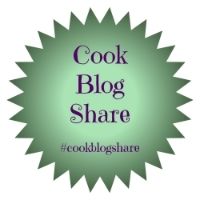 What's this? Well, for the first time ever, I've linked up with the
Cook Blog Share's
recipe linkup. Hopefully, if you click
on the following link you'll be taken to
and interesting recipes to consider. Yummy!
CLASSIC VICTORIA SANDWICH CAKE (serves 8-12 slices)
Ingredients :
4 large eggs
225g caster sugar
225g self raising flour
2 tsp baking powder
225g butter, at room temperature, plus a little to grease the tins
1 tsp vanilla essence.
For the filling & decoration :
150g raspberry jam
300ml whipping cream
75-100g fresh or frozen raspberries, saving 4-5 whole, good raspberries for the top
1 tsp icing sugar.
Method :
Pre-heat your oven to 180degC/350degF/Gas 4.
Taking two 8 inch (20cm) sandwich tins (loose bottomed ones are great for this!), cut out a circle of baking parchment to sit in on the base. Then, using the little dab of extra butter, grease the tins, lay the parchment in and grease the parchment.
Break the eggs into a large bowl (it's as well to break them individually into a cup, then tip them into the bowl, just in case one turns out to be a bit dodgy. That way you don't lose all the eggs at once!) and give them a light mixing. Add the sugar, flour, baking powder, butter and vanilla essence and set to the lot with a whisk. Whisk until just combined - don't over-whisk or your sponge will turn rubbery. The mixture should be what's known as a "dropping" consistency, which has nothing to do with what horses leave behind them and everything to do with how easily it falls from your spoon.
Decant half the mixture into each prepared cake tin and carefully level the contents.
Gently place the tins onto the centre shelf of your oven (don't lean one on the other, or you'll wind up with a wonky cake) and bake for 25 minutes. Don't be tempted to open the door and peek at how they're doing, or turn your hand to some panel beating beside the oven while the cakes bake - as these things will guarantee to make your sponge drop and become a pancake. You don't want that.
At the end of the 25 minutes, the cakes should be smelling delicious and (yes, you can look now) should be coming away from the edges of the tin. If you give the centre a little press, the cake should spring back like an olympic trampolinist.
Take them out of the oven and place onto a wire rack for some 10 minutes, to just let them get over the change in circumstances and cool a little. If you have loose bottomed cake tins, this is where they come into their own, as you can remove the cakes from the tins without fear of calamity.
If you are baking the cakes the day before you'll need them, leave them on the parchment paper for support and once they are totally cold, pop them into a freezer bag each. They'll keep perfectly until the following day.
Otherwise, carefully remove the baking parchment once the cakes are totally cool and place one upside down on your cake plate.
Carefully smooth loads of jam over the surface of this cake, then whip up the cream and even more carefully smooth generous amounts of cream on top of the jam. If you're going the whole hog and including raspberries (or other fruit), now is the time to embed it into the cream. Add a little more cream on top of the fruit (to help the upper cake stick and stop it from entertaining any ideas of sliding off onto the floor) and oh so carefully add the second layer of cake - flat side down, baked side up.
Lastly, take a tea strainer and sieve a little icing sugar all over the top of your cake and add the few raspberries that you kept back for decoration. (Provided your son hasn't eaten them, as mine very nearly did).
Take a photograph of your cake before you alert the family to the fact that it is ready to be eaten, because it's not going to be around for long!
Printable version